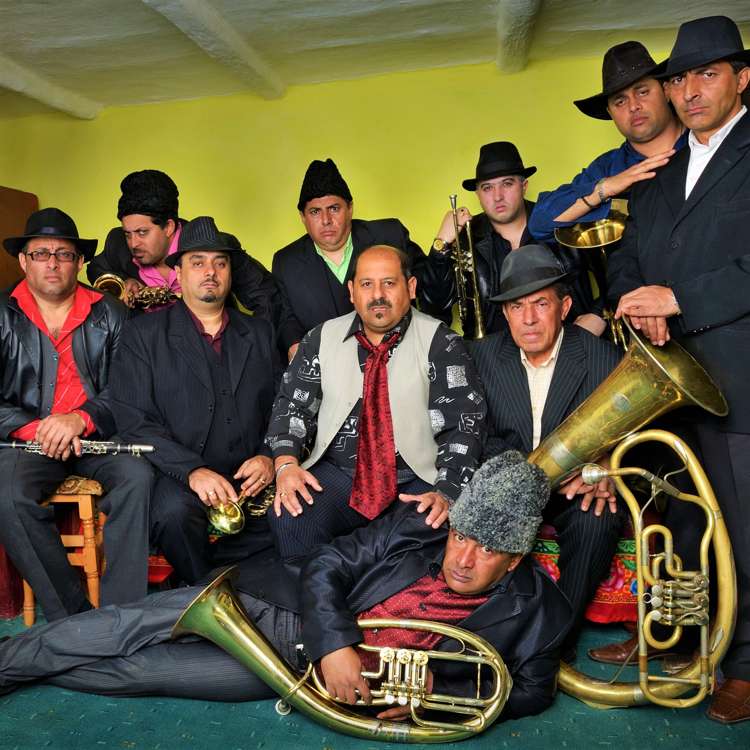 Kazum presents:
FANFARE CIOCARLIA + TARAF DE IMPEX :: A BALKAN GYPSY DOUBLE BILL :: EUROPALIA ARTS FESTIVAL ROMANIA
£22.50, £25.50
Entry Requirements: Age: 14+ under 16s music be accompanied by an adult.
LIMITED EARLY BIRD (e-ticket)
ADVANCE TICKETS (e-ticket)
Second Tier Tickets (e-ticket)
Kazum, Como No! and Romani In UK in association with EUROPALIA ARTS FESTIVAL ROMANIA present
The world's fastest, hardest Balkan brass band, FANFARE CIOCǍRLIA in a Balkan Gypsy double bill with the world premiere of sizzling electro-Gypsy project TARAF DE IMPEX, featuring founding members of legends Taraf der Haidouks, plus DJ Sacha Dieu.
FANFARE CIOCARLIA
Fanfare's energy is infectious, their horns are blistering and their performance will blow you out of this world. Hailing from a small village, Zece Prăjini, in the east of Romania near Moldova, Fanfare have toured the world extensively for over twenty years and their recordings have taken their Gypsy groove to festivals and dance clubs across the planet, raw and remixed; they were commissioned by Sacha Baron Cohen to cut biker anthem Born To Be Wild for the Borat soundtrack, and their music has appeared on TV ads such as Guinness' Black Paint and Ikea's Happy to Bed. Ciocarlia means 'lark', and their agility, breakneck speed, technical chops, ripping rhythms and heavy horns mean this will be the best party in London.
"The energy goes round in a figure of eight – out from the band into the audience who are jumping, waving, snogging and back into the band, who drive it to further frenzy…" Evening Standard
"One of the finest live acts on Earth." All About Jazz
"A feast of Balkan blues and high-octane gypsy brass funk." Rhythm Passport
TARAF DE IMPEX
Haidouks are back! After over three decades of touring the world, founding members of the jaw-droppingly fast Taraf de Haidouks, who are now known as TARAF DE CALIU after their lead violinist Gheorghe "Caliu" Anghel, are back in a brand new culture-clash outfit with leading figures from Romania's underground scene. The legendary 'Lautari' musicians from the Gypsy village of Clejani west of Bucharest encounter the eclectic and electric Impex project, which brings together musicians from acts such as Steaua De Mare, Plevna, Zveena, Zebre and PC Harem, associated with Impex Studios in Bucharest. Six Haidouks and seven Impex blend tradition and contemporary music culture in a project that aims to stay true to the original spirit whilst making sparks fly.
PLUS DJ SACHA DIEU
This is the World Premiere performance of Taraf de Impex and is specially commissioned by Brussels-based EUROPALIA ARTS FESTIVAL ROMANIA 2019. Europalia is a biennial and international multi-arts festival based in Belgium that has been running since the 1960s and which aims to share the best of rooted and cutting-edge contemporary culture across Europe. See www.europalia.eu for the full Europe-wide programme.
The London concerts are produced by Kazum in partnership with EUROPALIA Arts Festival and the Romanian Cultural Institute.
30 October Ada Milea and Balanescu Quartet (contemporary)
7 November Daniel Ciobanu (classical)
20 November Fanfare Ciocarlia & Taraf de Impex (folk, jazz, Gypsy)
22 November Maria Raducanu (jazz song)
6 December Alex Simu Quintet (jazz)
Age restriction: 14+ Under 16s with an adult The ticket price includes 40p venue improvement levy, 20% VAT and 4.2% Performing Rights charge payable to the composers. (£22.50 ticket is around £17.50 net, plus these charges) The booking fee is charged by ticketing platform Musicglue for their service.